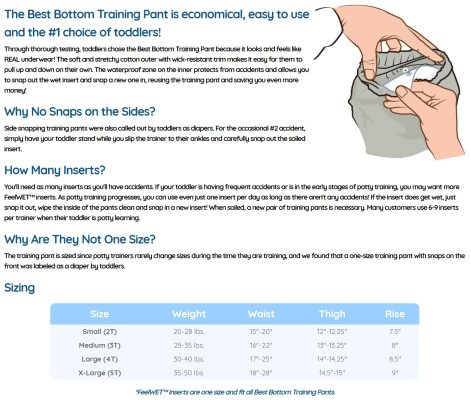 I Have a Little Boy – Anything I Need to Do Differently?
With boys, you'll need to make sure when they pull their training pants down and up by themselves that everything is "pointing down." Early on you'll need to check for him, and teach him how to do this himself for the future.
Best Bottom Training Pant Washing Instructions
Your Best Bottom Training Pants and FeelWET™ Inserts can be washed on warm and tumble dried on low. No softeners or bleach.
It is important to us to support our local economy and do our part to reduce our carbon footprint! We are proud to say that all Best Bottom Cloth Diaper Products are made in the USA at local facilities!
What is the Best Bottom Full Circle System?
Ease right into potty training by snapping your medium Best Bottom Diaper Inserts in your Best Bottom Training Pants. This allows for a substantial amount of absorbency for early learning. Once your little one is getting the hang of it, transition them to your small Best Bottom Diaper Inserts to catch their smaller accidents.
Before you know it, they will be feeling like a big kid and ready for the Best Bottom snap-in FeelWET™ training pants inserts! These will catch small accidents with their thirsty microfiber, but are topped with cute cotton flannel prints to allow them to feel wet. The prints and patterns not only coordinate with their training pant, but deter them from having accidents! "Don't pee on the puppies and whales!"